Vegan Avengers
We have chosen to live a vegan lifestyle. This means we aim to not inflict pain or cruelty on any living creature, both human and non-human, both directly and indirectly. We don't eat the flesh of animals or consume or use any animal products. We do have a varied, healthy diet and enjoy life. If you are interested in learning more, then read on. If not, then thank you for getting this far!
Link to Facebook page: Vegan Avengers The purpose of this page is to promote cruelty-free living through sharing recipes, tips, restaurants, businesses, photos . . .
Link to Facebook group: Torbay Vegans Torbay, England, UK: For vegans or anyone working towards a cruelty-free existence. We meet once a month at various venues in South Devon for food & chat (previous to the pandemic). We (the group admins) are vegan, vinyl-only DJ's who want to share and learn about our common beliefs/lifestyle and what's happening locally. This group has been set up mainly as a social group, to share information/advice about what to eat, where to eat, where to buy ingredients, related news stories that we feel passionate about, and maybe to make some new friends!
Link to Peta: People for the Ethical Treatment of Animals (PETA) The largest animal rights organisation in the world.
Link to The Happy Cow The world's number one FREE travel guide for Vegans and Vegetarians. This is both a website and free app which is immensely helpful when visiting new places. We are the ambassadors for Torquay, so please check out our profile and follow us if you wish: https://www.happycow.net/members/profile/Vegan-Vinyl-Avengers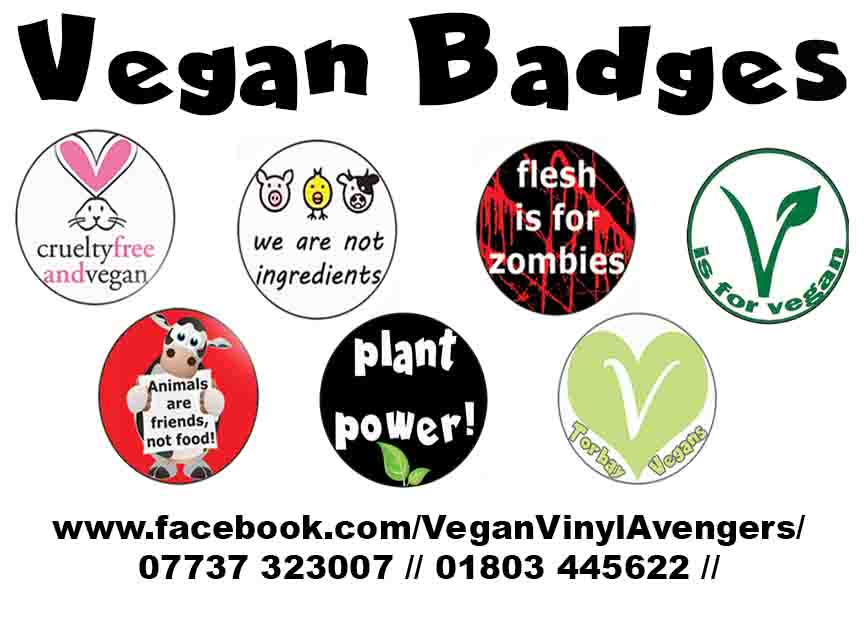 button badges 60p (2 for £1). These badges are available from our events or we can send to you.
Page updated 3 April 2021