Vegan Avengers
We have chosen to live a vegan lifestyle. This means we aim to not inflict pain or cruelty on any living creature, both human and non-human, both directly and indirectly. We don't eat the flesh of animals or consume or use any animal products. We do have a varied, healthy diet and enjoy life. If you are interested in learning more, then read on. If not, then thank you for getting this far!
Link to Facebook page: Vegan Avengers The purpose of this page is to promote cruelty-free living through sharing recipes, tips, restaurants, businesses, photos . . .
Link to Facebook group: Torbay Vegans Torbay, England, UK: For vegans or anyone working towards a cruelty-free existence. We meet once a month at various venues in South Devon for food & chat. Click on the EVENTS tab to see what events are coming up. Photos tab - photo albums of restaurants, events and recipes: https://www.facebook.com/groups/TorbayVegetarian/photos/?filter=albums We (the group admins) are vegan, vinyl-only DJ's who want to share and learn about our common beliefs/lifestyle and what's happening locally. This group has been set up mainly as a social group, to share information/advice about what to eat, where to eat, where to buy ingredients, related news stories that we feel passionate about, and maybe to make some new friends!
Link to Peta: https://www.peta.org/ People for the Ethical Treatment of Animals (PETA) The largest animal rights organisation in the world.
Link to The Happy Cow: https://www.happycow.net/ The world's number one FREE travel guide for Vegans and Vegetarians. We are the ambassadors for Torquay, so please check out our profile and follow us if you wish: https://www.happycow.net/members/profile/Vegan-Vinyl-Avengers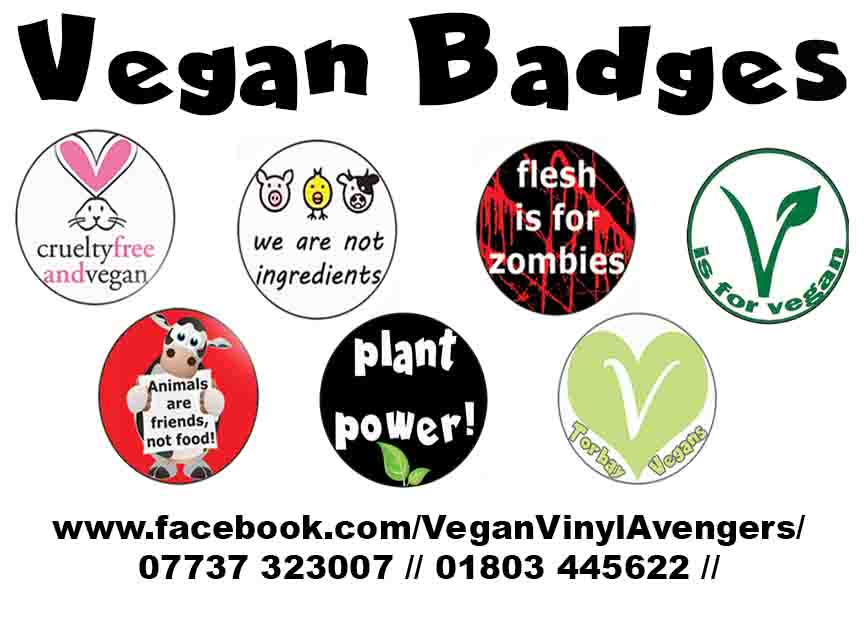 button badges 60p (2 for £1).